How can you make the best use of your Fire tablet?
Apart from installing apps and services, there are many accessories that do not come with your tablet but can boost your experience to a great extent.
We'll take a look today at some first-class accessories that can help take your Fire experience to the next level.
Screen Protector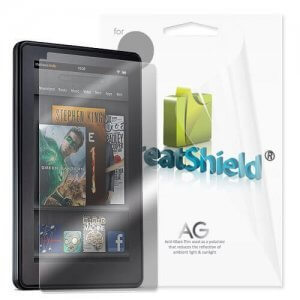 Any touchscreen gadgets, whether cell phones, tablets, or e-book readers
, benefit from a clear screen protector to safeguard it from scratches, smudges, dirt, and other elements. It helps to keep the screen in pristine condition. Screen protectors are also available with a matte finish. The matte versions tend to be better at keeping the screen free from fingerprints and it can also help with glare. Think about your needs and getting the best screen protector is a sound investment rather than an expense.
Protective Cases
How often have you felt your heart missing a beat when your precious gadget falls off the table or tumbles from your hands? A protective case is the obvious solution. Covers come in various materials, from silicon to rubber to leather. There's an almost endless selection of designs and colors. Some covers like the Origami case offer dual functionality acting as a protective jacket for your tablet and a foldable stand for hands-free operation. Others can put your tablet to sleep when you close the flap. Browse through Amazon and other online sites to get the most suitable cover for your requirements without spending a fortune.
Fire Keyboard and Keyboard Cases
If you want to get a laptop experience from your tablet, the easiest way is to attach a keyboard to it. The Fire keyboard
 is a great option to expand the functionality of your Fire and speed up your typing no end. These wireless Bluetooth keyboards hook up fuss-free. They are super-thin, ultra-light, and provide a very natural typing experience. Watch your productivity soar!
If you invest in a keyboard for your tablet, you might want a protective case for your keyboard as well. Interestingly, some keyboards come with cases attached. These keyboards are generally smaller than regular laptop or desktop keyboards so you might take a while to get used to the scaled-down unit. Do take care while selecting your keyboard because some of them may not be in the standard QWERTY format. Get a keyboard that feels just right and your tablet suddenly takes on a new dimension. Just make sure you protect it too!
HDMI Adapter and HDMI Cable
If you have an HDTV and a Fire tablet
, connecting them is a breeze. All you need is an HDMI adapter and an HDMI cable. Connect one end of the HDMI adaptor
to your Fire tablet, connect the other end to one end of the HDMI cable and then hook up the remaining end of the HDMI cable to your HDTV. You can now kick back and enjoy everything your tablet can do but on the big screen of your TV. You can watch movies, play games, and even view photos from your Fire on your TV.
Car Charger
If you spend lots of time in the car and your children enjoy their Fire Kids Edition
tablet on the go, a car charger is invaluable. If not, one minute they'll be happily playing games and listening to music but the next you'll hear cries that the battery is flat. A car charger puts paid to this scenario. Even if you don't have small children, anyone who spends lots of time driving will benefit from extended tablet usage.
Read Also:
10 Must-Have Apps for your Fire Tablet
Some of the Most Helpful Kindle Accessories
Stylus 
A stylus
can be a mixed blessing… It's all too easy to forget or misplace one but it delivers in fine style when you have it to hand! Available in a host of different styles and colors, if you want to kiss goodbye to a smudged screen and add more control to your tablet experience, check out a stylus today!
Power Adapter and Micro USB Cable
For accelerated charging of your Fire, you need an adaptor
that can support it. Using the data cable alone is a painfully slow experience.
Think about how far you are away from power outlets when charging. USB cables come in a range of lengths so make sure you get one that gels with your needs.
2-Year Protection Plan plus Accident Coverage
A 1-year warranty is standard with Fire tablets. However, you can opt for an extended warranty by SquareTrade. This covers all accidental drops or spills, battery problems, and other issues related to the screen or buttons. Also, if you to sell your tablet, the warranty is transferable. The Kids Edition comes with a 2-year warranty so you won't need to worry about extending it. One thing you should note is that this warranty is available only for US residents.
Verdict
Whether you want to type more rapidly or enjoy your tablet's functionality on a biggers screen, the right accessories can really make your life easier. From a stylus for precision to a rapid charger when you're in a hurry, the range of accessories for Kindle is pretty impressive.
Drop us a line any time with your queries or feedback. We love to hear from you and we're highly responsive to messages.
Come back soon for more Amazon Kindle-related news!