Kindle Fire HD 8.9
{{ reviewsOverall }} / 5
Users
(1 vote)
Average rating:
I love my Kindle Fire, I watch shows, play games and read a lot. I love it to read in bed. No awkward holding and not light needed.
What We Like
Great display for videos, games, apps and books
First-rate Amazon content
Great price
What We Don't Like
No charger
Missing some important apps
Need to pay for ad-free version
Kindle Fire HD 8.9
" tablet arguably gives more value for your money than any other tablets on the market.
"We made the best tablet at any price," said Jeff Bezos, CEO and founder of Amazon.
Maybe not with every Kindle Fire variant but this particular model is a surefire winner. Let's find out the details with our Kindle Fire HD 8.9" 4G LTE Wireless review.
Let's look in more detail with this Kindle Fire HD 8.9" 4G LTE Wireless review…
The Reason Why Kindle Fire HD 8.9 4G LTE Wireless Shines
Apple reinvigorated the tablet computer market in 2010 with the introduction of iPad. Each year it seems to leave its competitors way behind.
Usually, there is no problem saying iPad is overall the best tablet if you have the cash. This Kindle Fire HD 8.9 is a serious rival, though.
Kindle Fire HD 8.9
" 4G LTE Wireless reviews from various sources confirm that it's one of the best tablets. It shares parallel hardware configurations and technology with the top players.
In fact, there are some significant advantages of Kindle 8.9"over other top rated tablets.
The Spectacular 8.9" HD Display and Dolby Sound
Apple's iPad has a better resolution of 2,048 × 1,536 pixels at 264 ppi as against 1920 x 1200 at 254 ppi for 
Kindle 8.9".
Technically, the display resolution is better with other tablets like the Asus Transformer Pad, Google Nexus and Archos 97 Titanium HD. In reality, it's so hard to make out the difference even when you do a side by side comparison. It's a mere 10 fewer ppi than the Retina Display of iPad 4.
Kindle 8.9" uses an IPS LCD capacitive touch-screen with 16 million colors just like the latest iPad with Retina display (iPad 4). This IPS (In-Plane Switching) technology lets you view from any angle with the same deep contrast and rich color.
Fire HD 8.9" has stereo speakers on both sides of the device. It's hard to find tablets with such high quality sound. It's not just loud but very clear and crisp. This is mainly the work of the Dolby Digital Plus technology incorporated with Kindle 8.9".
Light Weight, Slim and Portable – Just What You Want
It is slightly thinner and slimmer than iPad 4
. The new iPad has a slightly larger screen size (9.7") but the difference is negligible.
Kindle 8.9" weighs 567 g while iPad weighs 652 g (Wi-Fi only) and 662 g (3G+Wi-Fi.
The new Kindle tablet is beautiful yet sturdy. Although it's very sleek, it's hard to find the power and volume buttons, especially the power button.
Features, Software and Performance – How Things Actually Works
It runs on a higher processor Dual-core 1.5 GHz TI OMAP4 4470 than the 1.4 GHz dual-core Apple A6X SoC of iPad 4.
It runs an equivalent Graphics Processing Unit (PowerVR SGX544) and RAM of 1GB.
For the Web, Kindle Fire HD
offers Amazon Silk (HTML 5), a cloud accelerated browser. It also includes gyroscope and Ambient light sensors with messaging services including email and IMs.
It works on Android OS (v4.0) but it's a customized OS to serve more of Amazon's content. It's not as user-friendly as the standard Android OS on Google Nexus or other Android OS-based tablets.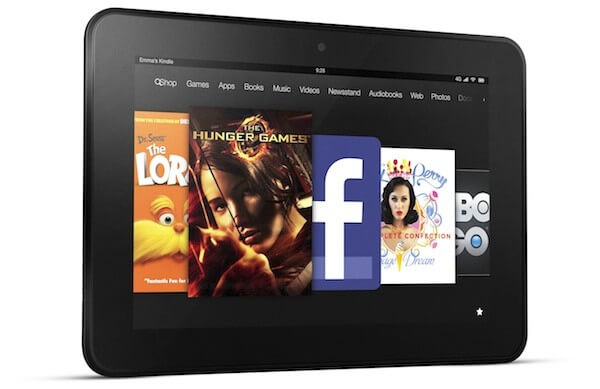 Kindle HD is primarily a device to access Amazon content. You'll love Kindle Fire HD
if you like shopping from Amazon for video, audio, e-books or physical products.
With Amazon Prime, you get free 2-day shipping for millions of items. You can also borrow one book a month from the Kindle Owner's Lending Library.
Amazon Prime members can also enjoy unlimited, commercial-free streaming of over 35,000 movies and TV episodes absolutely free.
Amazon's content is impressive. You can access over 23 million movies, TV shows, songs, magazines, books and audio-books from the Kindle device.
The default home screen is a carousel of your recently used content and apps. This can be annoying. To customize it you need to fill up your favourite section with your most used apps.
The X-Ray feature is a nice touch. Just tap and you'll have information about actors and characters for movies and TV. Tap books to find details about characters, places, ideas or to access info from Shelfari and Wikipedia.
Amazon's Apps Store is good but a far cry from Apple's App Store. Amazon still lacks some important apps though you will find the most popular ones. For apps, the Amazon ecosystem is weak compared to Google as well. However, for movies and books, Amazon is way ahead of its competitors.
Camera and Battery
There is no rear camera with Kindle Fire HD
just a 1.3MP (720p) front camera. You won't miss the rear camera much unless you plan to regularly take pictures or videos.
The front camera is great for video chat with any apps.
Battery life is impressive. You should get 7 – 8 hours of continuous use if web browsing, messaging, video streaming and listening to music. If you decrease the brightness, this can stretch to 10 hours.
Why is Amazon Selling Kindle Fire HD 8.9" So Cheap?
Amazon is not an electronics manufacturer, but its Kindle devices are outstanding and overwhelmingly popular. This is because they are not just great devices but cheap too.
"Basically, we sell the hardware at our cost, so it's break-even on hardware," said Jeff Bezos in an interview with BBC.
Sales of Kindle devices don't render any direct profit to the company. They hope instead to profit selling content. Amazon is primarily a content company and a retailer so they are able to take advantage of this.
Should You Buy Kindle Fire HD 8.9"?
Clearly, Kindle Fire HD is not a device to replace your laptop or an alternative to iPad real app lovers. In fact, iPad is overall a better tablet.
However, Kindle Fire HD is the best device to access Amazon content at an unbeatable price. If you prefer you can buy most of the content for your device from Amazon with over 1.2 million books, 400 magazines, 20 million songs, 15000 audio titles, 150,000 movies and TV shows.
Kindle Fire HD 8.9
" (16GB WI-Fi + Cellular) costs less than iPad 4. The 16GB WI-Fi only version is less than iPad mini though it has a much bigger display and almost doubles the resolution.
For accessing Amazon content, this is the best value tablet on the market.
What people say... Leave your rating
Order by:
Be the first to leave a review.
Show more