Kindle PaperWhite
{{ reviewsOverall }} / 5
Users
(2 votes)
Yes, you should buy a kindle. Get the paperwhite with no ads. You're welcome.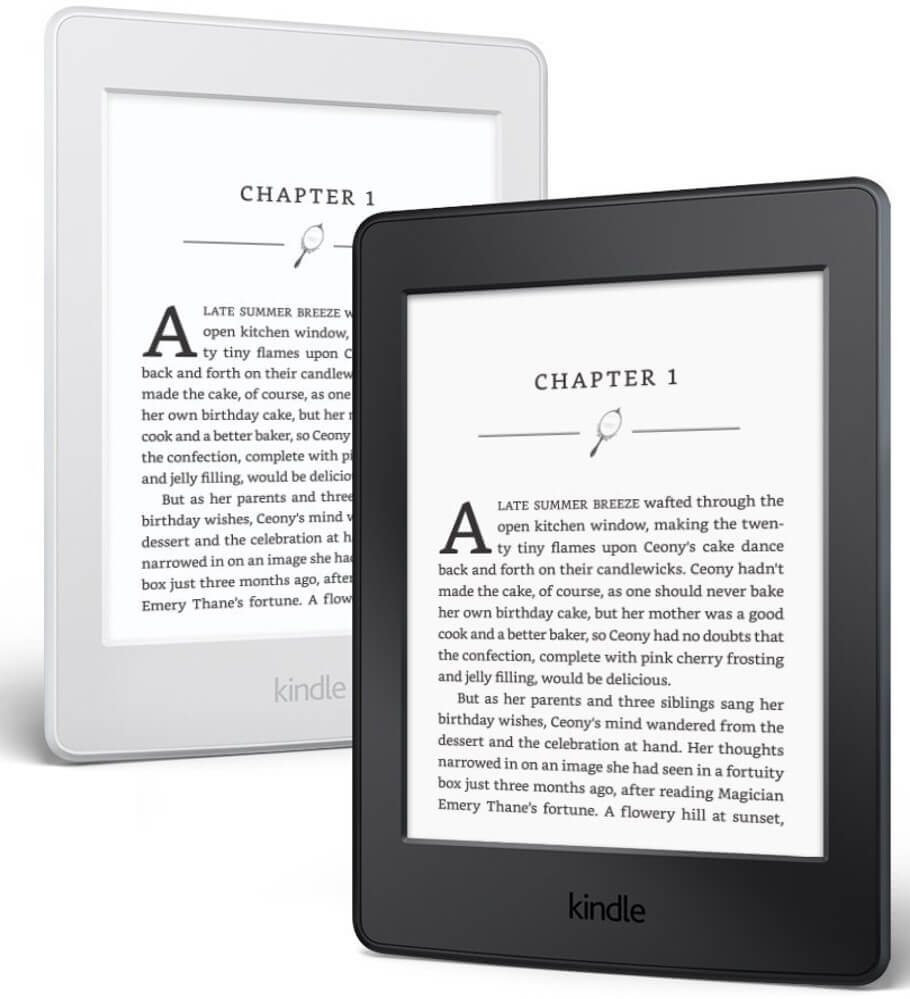 What We Like
Fully adjustable light allows you to read day or night without straining your eyes
Remarkable battery life for weeks of pleasure without charging
Choose from over 1 million e-books without breaking the bank
Join Amazon Prime for free access to thousands of titles
Lighter than a book so read easily with one hand
E Ink Display offers crisp, clear display that won't give you a headache
Unlike with tablets, there's no glare from the screen
X-Ray feature allows you to scan through for passages featuring certain characters, historical people/places or topics
Smart Lookup to easily find definitions and information without using a separate device
What We Don't Like
Rather lightweight in terms of features
Extra cost for ad-free version unless you want to be bombarded
Highly limited font selection with only 8 options
No AC adapter for charging is a disappointment
Lack of speakers means you can't use speech engines
Amazon Kindle Paperwhite 3G Review – The Best Kindle E-Reader So Far?
With this Amazon Kindle Paperwhite 3G and WiFi review, we'll show you why this featherweight device is still the world's best-selling e-reader.
Kindle is now more than 10 years old. Despite the ubiquity of tablets, e-readers are no less popular. Many of you won't want all the extras that come with an iPad or Android tablet. Also, if you are operating on a tighter budget, e-readers are much cheaper.
In today's Amazon Kindle Paperwhite 3G and WiFi review, we'll walk you through where this nifty little e-reader stands and falls. We'll then quickly compare the Paperwhite to the Nook Simple Touch and Kobo Glo so you can see which would be the best fit for you.
All-new Paperwhite is now out, so if you want double the storage and a waterproof e-reader at no extra cost, grab the newer iteration! If those extras don't mean much to you, the current 3rd generation Paperwhite is more than fit for purpose.
Kindle Paperwhite 3G and WiFi: Modest but Effective Functionality
Although the features of Kindle Paperwhite 3G and WiFi are not exactly overwhelming, it's often a case of less being more with e-readers. Let's face it, if you want something with wider functionality, it makes far more sense to invest in a tablet.
We'll look now at 5 key areas and see what Kindle Paperwhite 3G and WiFi does well and where there's room for improvement:
Built-In Light Enables Day and Night Usage
Text Handling Made Easy
Design: Black and White Elegance
Display: Crisp and Clear Resolution
Battery Life For Weeks of Reading
Time To Read Based on Your Reading Speed
Built-In Light Enables Day and Night Usage
While early iterations of e-readers left your eyes feeling rather worse for wear, the advent of E Ink technology means eye strain while reading is a thing of the past.
The other clear benefit of this E Ink Pearl display is that you can view the crisp display in the dark. Simply flash up the light bulb icon, tweak the brightness level and relax in bed with your favorite book. This is a significant progression from earlier generations that were good for daytime reading only.
During Paperwhite's 2012 launch, Jeff Bezos (Amazon's CEO) stressed that this built-in light was the culmination of a full 4 years of R&D.
By flattening out fiber optic cable into a sheet and studding it with LED lights, you'll enjoy an evenly lit screen you can read whether the room is brightly illuminated or pitch dark.
If you routinely stay up later than your partner and want to read in bed, flicking on a reading lamp is pretty impractical. Kiss goodbye to that obstacle with Kindle Paperwhite 3G and WiFi.
It's also worth mentioning that this light does not strip your battery of power so you can enjoy the convenience without constantly needing to charge your Paperwhite.
Text Handling Made Easy
Since 2013, Kindle has used the proprietary Bookerly font. Rather than Caecilia, which pre-dated e-readers, Bookerly was developed specifically for these devices. If it's not to your liking, you can choose from 7 other fonts (including Caecilia) but our recommendation is Bookerly.
Where the current Kindle has a fairly miserly 167ppi screen resolution, Kindle Paperwhite 3G and WiFi packs in almost double the pixels at 300ppi. While this, combined with superior contrast, allows you to view more words per page with comfort, the sizes at your disposal are fairly limited. This is something Amazon needs to work on.
Older generations of Amazon e-readers struggled badly when it came to text justification. Words were justified at either side of the page with spaces indiscriminately whacked in resulting in an ugly aesthetic…
Thanks to a new and improved typesetting engine, you'll enjoy a far cleaner look. This is achieved through kerning – proportionally adjusted spacing – and hyphenation. The result is a layout in line with a hard copy of the book rather than the previous messy nightmare.
Compared to the competition, Amazon is still playing catch-up in this area but they are striving hard to deliver what users want.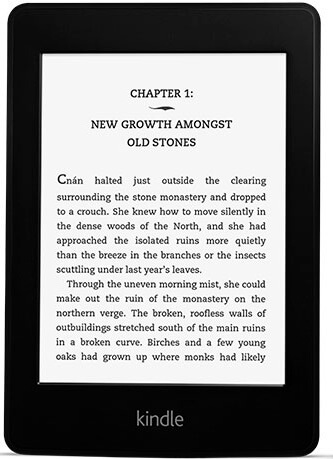 Design: Black and White Elegance But Starting To Age
They say you should never change a winning team and Amazon has stuck pretty closely to the previous Paperwhite models in terms of design.
There have been a few minor modifications to the shell but they are barely noticeable…
The rear panel now has a slightly more matte finish and it's also less prone to picking up marks left behind by your fingers. The logos have changed color, too. That aside, things have barely changed since 2012 with Kindle Paperwhite 3G and WiFi.
The key difference is that you can now opt for white where previously Paperwhite was only available in black.
Although sticking with what works is admirable, there is a trade-off…
Competing e-readers like the Kobo have become lighter and smaller where Kindle Paperwhite 3G and WiFi is starting to show its age.  We fully expect Amazon to launch the next generation of Kindle Paperwhite 3G and WiFi taking this into account..
Display: Crisp and Clear Resolution
The sharpness of Kindle Paperwhite 3G and WiFi's display is testament to the money Amazon has poured into developing this 300ppi beauty.
To put this into perspective, Apple's Retina Display for iPad is just 264ppi while the range-topping MacBook Pro is 226ppi or 232ppi depending on the screen size.
The crispness, then, is beyond reproach. There is definite room for improvement with the contrast but it seems cheap to moan about this when the overall readability is damn near faultless.
In order to go some way toward replicating the feel of reading a physical book, Amazon harnesses a textured feel.
The one thing lacking is an ambient light sensor. You'll need to fine-tune the brightness manually which is a small niggle but something that really needs rectifying if Kindle Paperwhite 3G and WiFi is to keep up with the prevailing norm of automatic adjustment on cell phones and tablets.
Battery Life For Weeks of Reading
Most e-readers with E Ink displays have strong battery lives so how about Kindle Paperwhite 3G and WiFi?
Well, if you're used to charging your iPhone or laptop twice a day, you're in for a treat with Paperwhite.
Amazon claims you'll get up to 8 weeks of usage before needing to give your Paperwhite a boost of charge. This figure is based on a half-hour daily session without WiFi and with the brightness dialed back to 10 or below.
While battery life claims from any manufacturer tend to be wildly inaccurate, our tests confirm that this estimate is fairly reliable..
Time To Read Based on Your Reading Speede
This incarnation of Kindle Paperwhite 3G and WiFi sees the debut of a predictive feature showing you the time remaining until the end of a given chapter or the book itself.
Obviously, we all read at different speeds. The intelligent Paperwhite analyzes how quickly you get through a book and makes constant updates to ensure it can make a fairly precise judgment.
This could scarcely be considered an essential function but it certainly comes in handy if you are pressed for time and wondering whether or not you can fit in the next chapter or it would be best left for later.
What Features Are Carried Over From Previous Kindles?
Having looked at where Kindle Paperwhite 3G and WiFi differs from its predecessors, how about the notable features that remain the same?
We'll break those down for you right now.
X-Ray Feature for In-Depth Exploration
Whispersync For Cross-Device Functionality
Simple Web Browsing with Webkit
X-Ray Feature for In-Depth Exploration

Whenever you treat yourself to a new Kindle book, it comes pre-loaded with key information about specific historical people and locations, fictional characters and broader concepts.
All of this pre-installed information is accessible wherever you are in your book by simply hitting the X-Ray function.
This is an exclusive feature of Kindle. In Amazon's own words, X-Ray allows you to explore "the bones of the book" and broadens your reading experience.
Whispersync For Cross-Device Functionality
These days, it's commonplace to own a laptop, desktop, tablet and cell phone. We are used to flitting from device to device and cross-functionality is becoming the norm rather than the exception.
Latching onto this, Amazon Kindle Paperwhite 3G and WiFi neatly synchronizes bookmarks and annotations so whatever device you grab you can get straight down to business.
Webkit for Basic Browsing
The flaw with most e-readers is the inability to browse the web.
With Amazon Kindle Paperwhite 3G and WiFi, you can connect to your home WiFi or make use of WiFi hotspots.
As far as 3G goes, you'll be limited to Kindle Store and Wikipedia. This is why Amazon can safely say that 3G is free.
What Else is Worth a Mention?

Library: Store up to 1000 books in your personal library. This should be more than enough for even the most voracious reader. If you happen to run out of room, you'll enjoy free Cloud access so you can flick your book across and grab it again later if you need to
Try Before You Buy: There's little worse than buying a bum book. With Amazon Kindle Paperwhite 3G and WiFi, you can read the opening chapter and decide whether or not it's worth the investment
Public Library Access: Kindle customers in the US can also borrow books from over 10,000 public libraries. Take advantage of reading them on Amazon Kindle Paperwhite 3G and WiFi or any device that supports Kindle app
Read Kindle Cross-Platform: Sync and read on more than just Kindle Paperwhite 3G and WiFi. Whether you have an iPhone or an iPad, a Mac or a PC, BlackBerry or Android device, the free Kindle app is available across the board. This cross-platform functionality is a huge plus point
Rapid Downloads: Grab a new book in less than 60 seconds so there's no waiting around when you are hungry for new blood
Real Page Numbers: Kindle shows real page numbers matching up with the printed book version. This is a particularly valuable feature for academics needing to include citations or references
Difference Between Kindle Paperwhite free 3G + Wi-Fi and Kindle Paperwhite Wi-Fi only
The primary difference, as you might guess, is the connectivity…
Kindle Paperwhite 3G and WiFi and WiFi offers you a choice of getting online with free 3G (for Kindle Store and Wikipedia) while Kindle Paperwhite WiFi requires a WiFi connection.
With the 3G-enabled version, you'll benefit from global wireless coverage spanning more than 100 countries so it's perfect for perpetual travelers.
There is also a barely discernible weight difference that's barely worth mentioning. Kindle Paperwhite WiFi tips the scales at 7.5oz while Kindle 3G and WiFi weighs a fraction more at 7.8oz.
Is Kindle Paperwhite 3G and WiFi a Smart Choice For Kids?

While for adults, the lack of full web connectivity could be viewed as a negative, perhaps you'd like your children to be able to read without the distraction of the Internet. If so, Kindle Paperwhite 3G and WiFi makes perfect sense.
If you do want to browse online, the experience is slow and sluggish. For kids raised with ultra-fast fiber WiFi, this will seem like a return to the dark ages and encourage them to focus on reading instead of messing around on Facebook.
Beyond this, you can restrict access to just Kindle Store, Amazon Cloud and basic web browsing using the Parental Controls. This allows you to remain in the driving seat and limits the mischief your kids can get up to.
Since there is no audio support, Kindle Paperwhite 3G and WiFi is best avoided if your kids enjoy audio books or rely on text-to-speech.
Overall, it really is a great choice for young readers.
How Does It Compare To Other Leading E-readers?
Nook Simple Touch Glowlight Vs Kindle PaperWhite
Just like Amazon Kindle Paperwhite, the Nook Simple Touch Glowlight makes full use of LEDs and patented fiber-optic technology to light up the display evenly.
Nook was the first e-reader to pioneer illumination with an E Ink display. Kindle Paperwhite does the same but even better.
In terms of pixel density, Paperwhite's 300ppi is a marked improvement on the 167ppi display of Nook Simple Touch Glowlight.
If you are buying your first e-reader, Kindle Paperwhite is the best option. You'll get a better ecosystem with Amazon alongside superior hardware. Nook also lacks 3G connectivity.
Kobo Glo Vs Kindle PaperWhite
Kobo Glo
is a first-class and high-res E Ink reader with solid, reliable hardware.
Much like Nook Glowlight
, you'll get an expansion slot for up to 32GB of external memory. It also supports ePub files which trumps Paperwhite.
One serious drawback with Kobo is a sorely limited selection of e-books. You can't buy third-party titles directly from Kobo without tethering to a computer.
Kobo Glo has no 3G connectivity.
What Are The Drawbacks of Kindle Paperwhite 3G and WiFi?
One tiny fault that merits a mention is the ghosting of previous pages when you turn over. In fairness, this is a problem common to all E Ink readers rather than something specific to Paperwhite. It should also be noted that this issue has improved significantly since the early days of E Ink readers.
The absence of audio is a serious problem for lovers of audio books or text-to-speech users. Anyone who doesn't make use of these will obviously not find this a problem at all.
You will only get a micro-USB cable rather than an adapter which is somewhat restrictive but not a deal-breaker by any means.
Unlike previous generation Kindles, there's no physical button for page turning. Again, this is hardly something upon which to base your buying decision but worth bearing in mind.
Is It Worth Upgrading If You Own an Early Kindle Paperwhite?
There's little doubt that Amazon Kindle Paperwhite 3G and WiFi is not only the best Kindle but also the best e-reader. It's rare that we make definitive judgments but in this case it's fully justified.
That said, if you already own a recent E Ink reader or one of the two previous generations of Kindle then there is no real need to upgrade. You'll only really be missing out on the built-in lights so decide if that difference alone makes it worth investing in Paperwhite 3G and WiFi.
For owners of earlier iterations of Kindle, it's certainly well worth trading in for a new model.
Overall Verdict
Amazon Kindle Paperwhite 3G and WiFi sets the standard for e-readers and is an unqualified success.
The astoundingly crisp display, superb build quality and host of innovative features makes it incredible value for money and offers a first-rate reading experience without costing a fortune.
To ice the cake, nothing can compete with Amazon's incredible ecosystem. You'll truly be spoiled for choice.
So…
While there's always room for improvement with any product – and we have honestly outlined what we consider to be noteworthy disadvantages – Amazon Kindle Paperwhite 3G and WiFi is the current king of e-readers.
What people say... Leave your rating
Order by:
Be the first to leave a review.
Show more