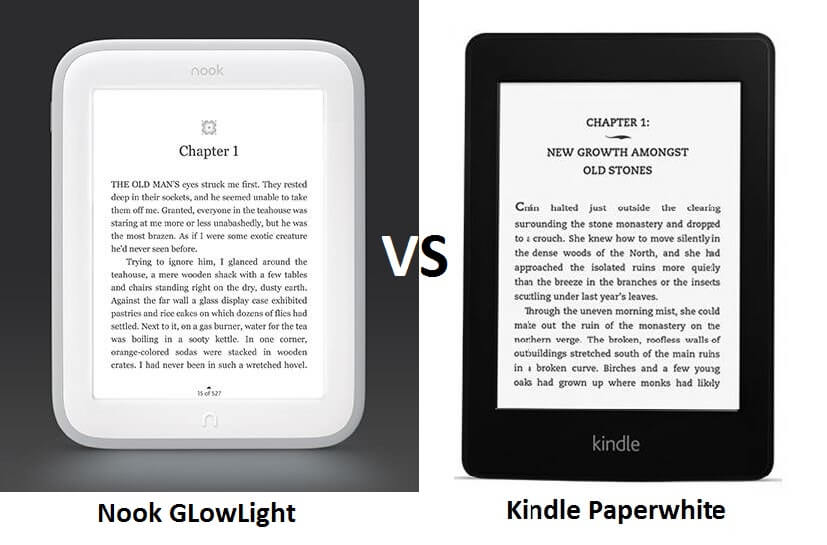 If the search for the ideal e-book reader or confusion has brought you here, you're in luck!
While many consider Kindle
to be the unrivaled king of the e-readers, there are some worthwhile alternatives.
The Barnes & Noble Nook
 has been keeping Amazon on their toes for some time. While it might be wildly less popular, for many it's still a solid choice.
We'll briefly pit Kindle Paperwhite against Nook today so you can determine which would work best for your needs and your budget.
First thing's first, here's a brief comparison table breaking down the core specsKindle Paperwhite and the Nook GlowLight:
| | | |
| --- | --- | --- |
| Specifications | Kindle Paperwhite | Nook GlowLight |
| Manufacturer | Amazon | Barnes & Noble |
| Weight | 6.4 oz (182 g) | 6.2 oz (175 g) |
| Dimensions | 6.6″ x 4.6″ x 0.32″ | 6.5″ x 5″ x 0.4″ |
| Screen | 6 inches, 300 PPI | 6 inches, 212 PPI |
| Color | Black | White |
| Battery Life | Up to 8 hours | Up to 8 hours |
| Wifi | Yes | Yes |
| 3G | Yes | No |
| Expandable Memory | No | No |
| Built-in Light | Yes | Yes |
| | | |
If we look at the overall picture, these 2 devices are actually pretty similar feature-wise and in terms of dimensions. This is what can confuse the issue when choosing between them.
When you start to delve deeper, there are a few fundamental differences between these two e-book readers that can simplify your decision.
We'll walk you through those differences right now…
Screen
Both readers used to come with 6-inch screens packed with 212 PPI (pixels per inch), and a built-in light. Since the introduction of all-new Paperwhite, you'll now get 300 pixels per inch so Paperwhite edges ahead.
The difference here is slight but Kindle
is superior when it comes to screen responsiveness and text clarity. Paperwhite
has a more even distribution of light, too. At the highest light setting, though, Nook
is brighter so it edges ahead there.
All-new Paperwhite is also waterproof and IPX8-rated.
As with all aspects of this comparison, there is no right or wrong answer. You need to think honestly about your needs and preferences then choose accordingly.
Design
Aesthetically, this is very much down to personal choice…
The Nook GlowLight
sports a rather square-shaped design in off-white. Silicon trimmings at the edge help with grip and protection. This trim is an acquired taste. You might love it or you might feel it cheapens the look of the Nook so check it out for yourself.
Paperwhite is rectangular and angular with black casing. The black background serves up superior contrast when you're reading. The new model features a sleek, flush screen.
Size and Weight
The Nook is slightly wider and a little bulkier than Paperwhite
, but Paperwhite is marginally longer. These differences are negligible.
Although the Nook looks slightly bigger, it's actually 30-odd grams lighter than Paperwhite. The weight difference itself is not so significant when you're holding it to read but it's worth pointing out if you really prize featherlight devices at all costs.
Ecosystem
Barnes & Noble has stepped up to the plate admirably. They now offer over 3 million e-books in their library.
Amazon has over 2 million title son offer.
Where the Amazon ecosystem scores over BN is in the range of popular books and best-sellers. Also, most of these titles are a bit cheaper in the Kindle store.
Even given the slight difference in the total number of e-books available, Amazon's Kindle still runs out overall winner here.
Other Distinct Features
In addition to all the similar features that need close study to pick out the winner, these devices boast some unique features. Maybe this will help you differentiate between them…
Paperwhite has an inbuilt dictionary feature for uninterrupted reading and X-ray functionality to provide you with useful background information.
Nook
, on the other hand, allows you to read EPUB books from other online retailers like Sony and Google, which Paperwhite does not support.
Paperwhite also supports simple web-browsing and has tight parental control features so you can decide what content and books are appropriate for your kids. The Nook has just a password to protect purchases and no web-browsing capability at all.
With Paperwhite, you can relax on the beach thanks to the new waterproof chassis.
You can also now enjoy Audible audio books on all-new Paperwhite.
As before, think about which of these features makes most sense for you and choose in line with that.
Pricing
If price is a major deciding factor for you, the Nook
comes in slightly cheaper. Also,  Barnes & Noble offer discounts throughout the year, this pricing gap might widen even further.
That said, the features that Paperwhite offers fully justify this price difference.
But beyond the initial cost, the Kindle store tends to be cheaper. With Amazon Prime factored in, Kindle could well work out the smartest financial option in the long haul.
Think about whether you are prepared to spend a little more now to save in the course of time.
Parting Thoughts
At the end of the day, it's entirely up to you which ecosystem you want to buy into.
The differences between these two devices are slight, but overall Paperwhite is the more refined and better crafted device especially with the all-new 2018 Paperwhite.
For a detailed review of features of the Kindle Paperwhite, see here.
You can also take a look at the more advanced and latest version in the Kindle line, the Kindle Voyage, here.
Be sure to come back soon for more e-reading information, tips and tricks.