Kindle Oasis
{{ reviewsOverall }} / 5
Users
(1 vote)
Love it, for it is light to carry in your purse and it does not weigh your hand down while you are reading.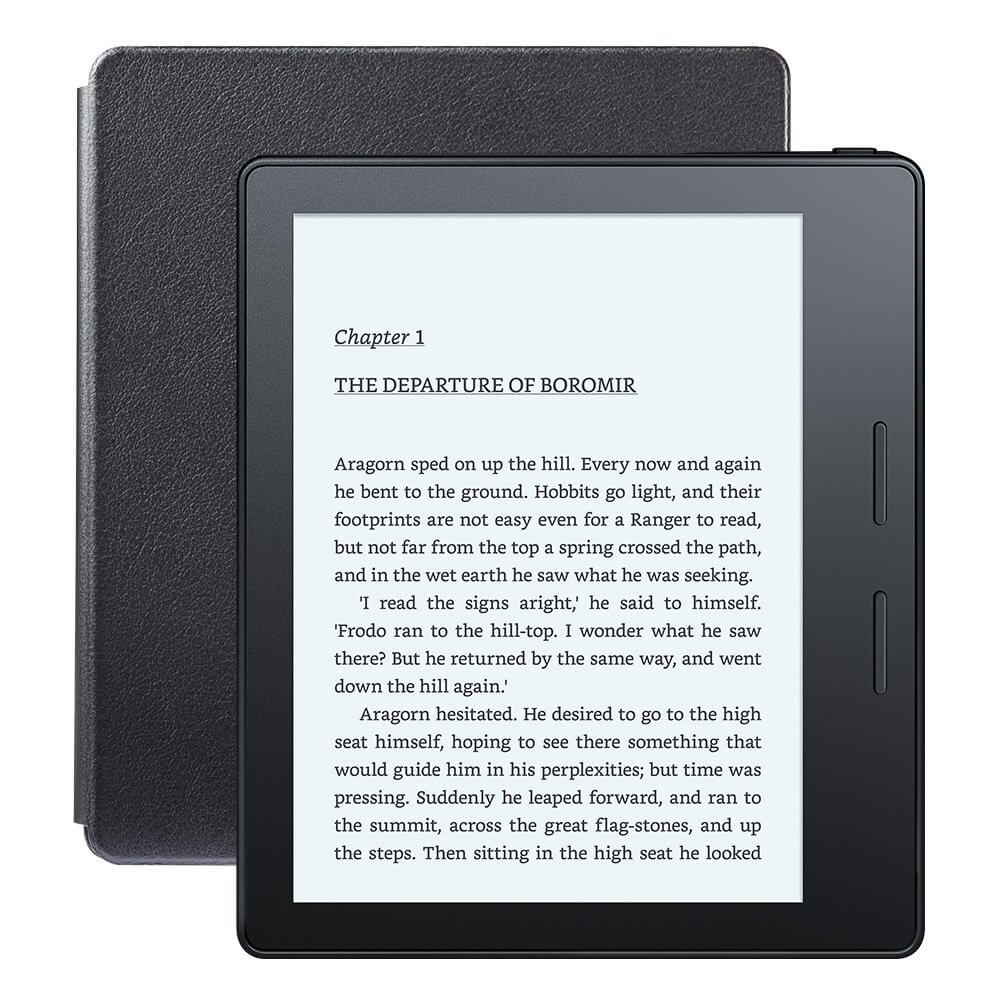 What We Like
Weighs just 4.7 ounces so reading is a truly effortless experience
Outstanding 300ppi display is easy on the eye and allows you to read in all conditions
Fantastic leather cover in choice of 3 colors
2 week battery life without cover and a staggering 9 weeks with cover in place
Hibernation mode further prolongs battery life
Tapered design allows you to read with one hand (although this is most effective without the cover)
Avail yourself of Amazon's first-class ecosystem with a choice of millions of titles
Patterned glass screen gives you uniform lighting with no streaking that could blight previous Kindles
Turn page with dedicated buttons or touch screen for maximum flexibility
Choice of WiFi or WiFi and 3G to suit your needs
What We Don't Like
Expensive for an e-reader
You need to pay substantially more for ad-free version with 3G functionality
Choice of fonts leaves something to be desired
Like all Kindles, the Oasis is not waterproof so be very careful if you read in the bath
Amazon Kindle is approaching its tenth anniversary and shows no signs at all of losing popularity.
Now leaping headlong into its eighth generation, Kindle Oasis came to market on April 2, 2016.
With today's Kindle Oasis review, we'll explore the manifold benefits of this featherlight e-reader so you can see whether you think it's really worth the investment.
It's only fair to draw attention to the price of this stellar e-reader straight off the bat. It's absolutely not a reading device for everyone…
With models like Kindle Oasis, Amazon is not trying to snare new converts. Instead, they are attempting to ensure that existing customers remain at the vanguard of e-readers with access to the very best technology can deliver. According to Amazon's VP of Amazon Devices, Neil Lindsay, the core objective with Oasis was "To make the device disappear." In other words, just as you don't contemplate the physical nature of a book when you are reading, Amazon wants you to enjoy your e-book without being conscious of the device itself.
On that note, we'll kick off with a look at the incredibly slight dimensions so you can judge for yourself to what extent Amazon met this goal…
Design: Thinner and Lighter Than Any Kindle To Date
The quoted figures are that Oasis is 30% thinner and 20% lighter than any previous Kindle. Without the cover, the WiFi only version weighs just 4.6oz with the WiFi and 3G model tipping the scales at 4.7oz.
The display is a minuscule 0.13 inches thick but don't make the mistake of assuming the device is flimsy. A super-strong glass cover and a frame bolstered by metal electroplated into place means that Kindle Oasis combines absolute portability with guaranteed durability.
The handgrip has undergone quite a transformation. Unlike earlier Kindles, this is now tapered. This is not purely for aesthetics or to be different for the sake of it. When you hold Oasis, this asymmetric device naturally rests on your palm to replicate the feel of a book's spine.
To switch hands, you need merely turn the device over. The built-in accelerometer flips the screen and the page turn buttons also change position accordingly. The sole drawback here is that the USB charging port and the power button will be facing downward.
You can either use the touch display to turn the page or the physical page turn buttons housed on the handgrip.
Case and Dual Battery Charging
For the first time since the original Kindle was launched in 2007, Oasis comes with a case thrown in.
You'll be able to choose from an understated black, antique-looking walnut or a rich merlot. These are all fashioned from high-grade leather but they're not just for show…
Opening the case just like you'd crack the spine of your favorite book, your Kindle Oasis will automatically fire up when you open it and it goes to sleep when you close the case.
A dozen magnets hold the case securely in place but you can detach it with ease.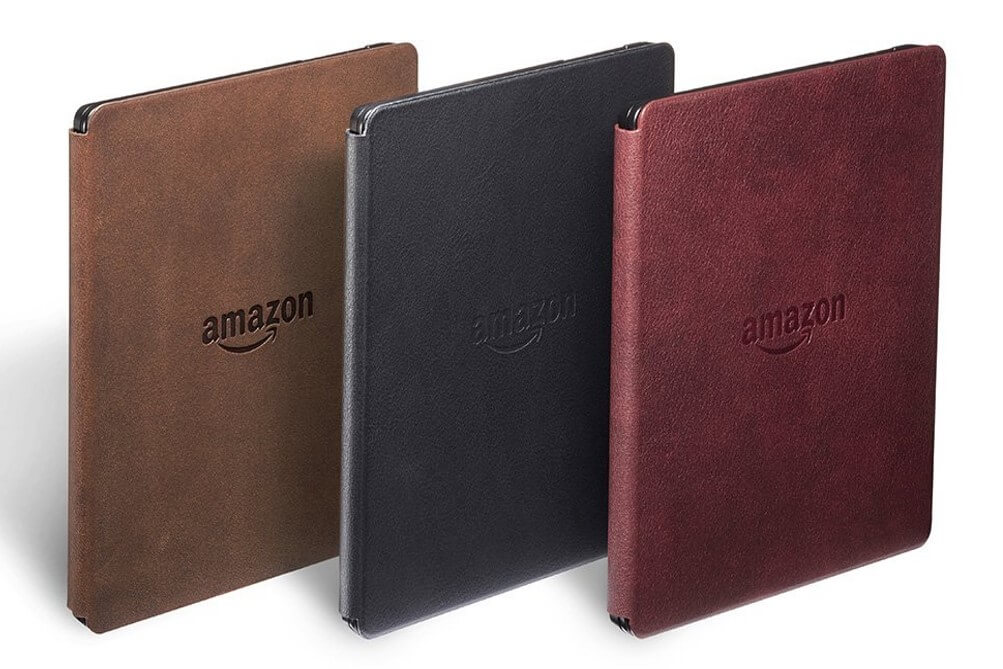 As well as protecting your Kindle Oasis and looking pretty slick into the bargain, the cover really comes into its own for charging. There are ports so you can deliver a boost of charge. When case and Kindle are together and plugged in, you can charge both device and cover. The case then continues to charge your Oasis when you are on the move prolonging the battery life considerably.
Battery life is impressive to say the very least. You'll get 2 weeks of use without the cover and an almost unbelievable 9 weeks if you take advantage of the case. Screensaver mode kicks in when you don't use the Oasis for up to an hour. After an hour, Hibernation mode ensures that the processor slumbers into an ultra-low power state
with memory completely shut down. In spite of all of these tweaks, the device is still little bigger than a smart phone. It's a truly incredible feat of engineering.
Charging takes place using standard micro-USB. There is no need for 2 chargers if you opt for boosting Kindle Oasis and the case at the same time. These little touches count. You can impart a full charge through your computer in just 3 hours.
While cases in general are an acquired taste and can bulk up otherwise slimline devices, with Kindle Oasis the pros hugely outweigh the cons.
Display: Enhanced Lighting and Even More LEDs
While Kindle Oasis stands alone, it's easy to detect the inspiration drawn from Kindle Voyage in terms of the display…
The 6-inch screen is amazingly crisp. With the same 300ppi resolution as Voyage, you'll get 10 LEDs rather than the 6 on the cheaper model. This guarantees total consistency. Regardless of the lighting, you'll be able to read without hindrance.
The result of these additional LEDs is striking. With the glow spread equally across the entire display, reading is a genuine pleasure. You can fine-tune the contrast to suit your taste. This is a significant improvement over Kindle Voyage which suffered from brighter spots on random parts of the screen.
This uprated E Ink display means that, unlike with a regular LCD, you can use it outside even if the sun is blazing. Kindle Oasis has a superb refresh rate so turning pages is smooth and hassle-free.
Amazon slipped up with this model by leaving out the adaptive light feature. This was a handy feature on previous Kindle models. Perhaps there was no room for the sensors on such a slender device. Automatic adjustment is a sore loss, though.
That said, there's still a vast range of brightness adjustments at your disposal with 24 levels to choose from. The backlight can be switched on or off. Although the device itself is smaller, the size of the screen remains the same 6-incher you'll find on Voyage and other Kindle devices. Amazon claims this is the optimum screen size..
Performance and Functionality
There are 2 models available with Kindle Oasis:
If you have a decent home WiFi connection or you'll be using your Oasis in areas where you can easily hook up to existing connections, save some cash and roll with the WiFi only model.
For anyone who wants the advantage of using free 3G to access Kindle Store and download books wherever you might be, the more expensive model is undoubtedly well worth the investment. You can enjoy the same connectivity as you get on your cell phone without the stiff monthly fee.
Amazon is not as generous as you might imagine, though. You'll be limited to using Kindle Store or Wikipedia so you'll have the basic covered but you won't be able to surf with abandon free of charge. Also, note that some promotional content and other books may not be available for download using 3G.
While Amazon doesn't provide data about the type or power of the processor used in Kindle Oasis, turning pages and downloading content are both nearly instantaneous. While there are no hard facts to back this up, take it from us that this is the speediest Kindle to date by some distance.
With 4GB of internal storage, you'll have room for a couple of thousand titles. E-books and digital files are pretty tiny. This is more than enough reading material for most reasonable needs. In addition to this, you can store all your Amazon content on the cloud at no further cost.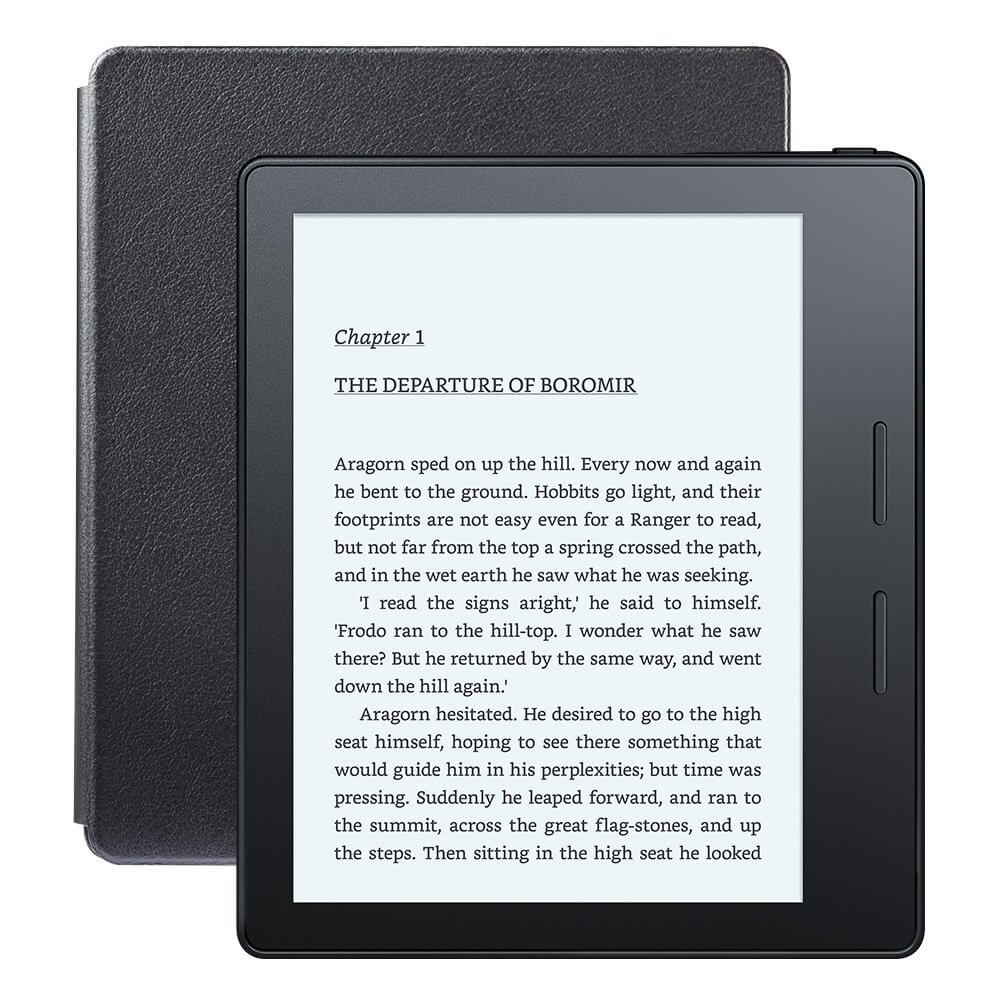 User Interface
While Amazon rarely departs from a winning formula completely, there are a few tweaks to the interface on Oasis that makes it more user-friendly than previous generations of Kindle.
The moment you fire up Kindle Oasis, your library is ready to access immediately. There's no lag or tiresome start-up process so you can get right down to business.
The slick touchscreen is a joy to use and you'll get no glitches with the solid, responsive buttons. Navigation is a breeze with a combination of tapping and swiping just like with a tablet. As with all touchscreens, the keyboard tends to be something of an acquired taste. Although it's basic, it does the job just fine.
Buttons are pared down to the essentials which is actually a positive. Nobody wants to be assailed with a slew of unnecessary functions cluttering things up. You have the standard Back and Search buttons along with one for Kindle Store and another for Goodreads. This is a social network for bookworms and you can easily sync your Kindle account with Goodreads.
Search is intuitive and super-simple. You can view previews of results from your Library, Kindle Store and Goodreads all on the same page.
Amazon really has made using Kindle Oasis so easy that you don't need any tech skills or web know-how to get the very most from your device.
What Else Rates a Mention?
Language Customization: Choose from 11 major languages from English through Chinese. Selection is straightforward and you can also take advantage of pre-loaded dictionaries in all these languages. Since non-Latin characters are fully supported, you won't be limited to European languages
Page Flip: With Page Flip, you can easily access your notes or highlights as well as pictures or maps dotted throughout the book without losing your place. Page Flip pins your current page to the side of the screen so you can explore then get straight back where you were without flicking through
Cloud Collections: If you like to segregate your books by categories, you'll love Cloud Collections. Keeping things organized just got even easier with Kindle Oasis!
Personal Documents: You can send yourself Word docs or PDFs and read them as Kindle files which is great for flight tickets, hotel reservations or anything else you might need when you're on the go. Either email the files or use the nifty Send to Kindle service and you're all set
Cross-Platform Functionality with Prime Reading: Owning multiple devices is becoming pretty standard. With Prime Reading, you can savor all your material whether you're using your Kindle, phone, laptop or tablet. This kind of convenience is priceless
Kindle Unlimited: For a modest monthly fee of $9.99, check out over 1 million books and a large selection of audiobooks to your heart's content. With a free month's trial, you have nothing to lose by checking it out. A word of warning, though… If you don't want to continue, make certain to cancel or you will be automatically billed
Kindle MatchBook: Sometimes, you might want to own a physical book as well as the same title on Kindle. With MatchBook, you can purchase the Kindle edition at a cut-throat price making doubling up a more worthwhile venture
Only on Kindle: Everyone likes a bit of exclusivity. You can avail yourself of over 1 million books that are only available on Kindle if you treat yourself to Kindle Oasis
Is Kindle Oasis a Good Bet For Kids?
Absolutely.
Children are very easily distracted. Plop your kids in front of a laptop or tablet and ask them to read and there's every chance they'll be playing games or browsing the web even if they really love reading. That's only natural. With Kindle Oasis, you can set them up with their favorite book with no temptation in their way.
This is achieved via Kindle FreeTime. Just create a profile for your child and set a password for parental controls and you're good to go.
From here, you can tailor the set-up appropriately. You can easily block any sites you don't want them to use or even prevent access to the browser completely and disable connectivity. You can also put an end to those accidental purchases by blocking Kindle Store.
Progress reports and achievement badges for reading targets ensure that your children get a fun experience. You can also keep an eye on how much time they spend reading.
Word Wise is a feature available on many leading titles. Clear definitions automatically pop up above difficult words to streamline the reading process. By tapping a word, your kid is presented with synonyms, always a great way to bolster their vocabulary. Unfamiliar words that your child looks up are added to Vocabulary Builder, an entertaining method of testing their knowledge.
Kindle FreeTime Unlimited, a steal at $2.99 a month, affords you easy access to a wide range of suitable content so you don't waste time curating appropriate material.
Throw in access to comics that can be clearly read one panel at a time, there's no doubt whatsoever that Kindle Oasis is extremely kid-friendly.
Why Not Buy a Tablet Instead?
Considering the ruthless price tag, it's a fair question to ask whether it's not worth buying an iPad or tablet instead of Kindle Oasis which is pretty much limited to reading.
That, though, is essentially one of the key selling points of all Kindles. You can enjoy reading in its purest form without the endless distractions present on a fully connected tablet.
Also, in today's wired world, it's easy to incorrectly assume that everyone wants or needs to be online at all times. Think about your grandparents. Maybe they use the Internet but quite possibly not. For various reasons, continual web connectivity does not appeal to everyone.
For other people, it's not a question of either/or but rather of both. As we mentioned right from the get-go, Kindle Oasis is not targeted at all users but instead lasers in on a certain segment of the market. Much like a Rolls-Royce owner might also decide to buy a Range Rover, someone who already has a MacBook and an iPad may very well have the budget and inclination for Kindle Oasis as well.
In summary, if you are likely to make use of the full range of functionality offered by a tablet and you do not own multiple devices, it's perfectly reasonable to pour your hard-earned money into a multi-tasking tablet. If, on the other hand, you want to read without anything else getting in the way, Kindle Oasis makes perfect sense.
What's The Downside of Kindle Oasis?
The most significant stumbling block with Kindle Oasis is the price. Either you can afford it and justify it or you can't. It's as simple as that.
As with all Kindles, font choice could be broadened although this is hardly a deal-breaker.
While it's not waterproof, this is again true of all Kindles rather than a specific issue with Kindle Oasis.
Overall, there really are remarkably few downsides to this stunning e-reader.
Overall Verdict
Each successive Kindle seems to steal the crown of "best Kindle on the market" and Kindle Oasis is no exception.
Although overall performance of Kindle Oasis is not vastly superior to Voyage or PaperWhite, if you are prepare to pay a premium for the design and bleeding edge functionality, Kindle Oasis will deliver in fine style.
If you want jaw-dropping aesthetics with killer performance and you have the budget to spare, check out Kindle Oasis today!
What people say... Leave your rating
Order by:
Be the first to leave a review.
Show more