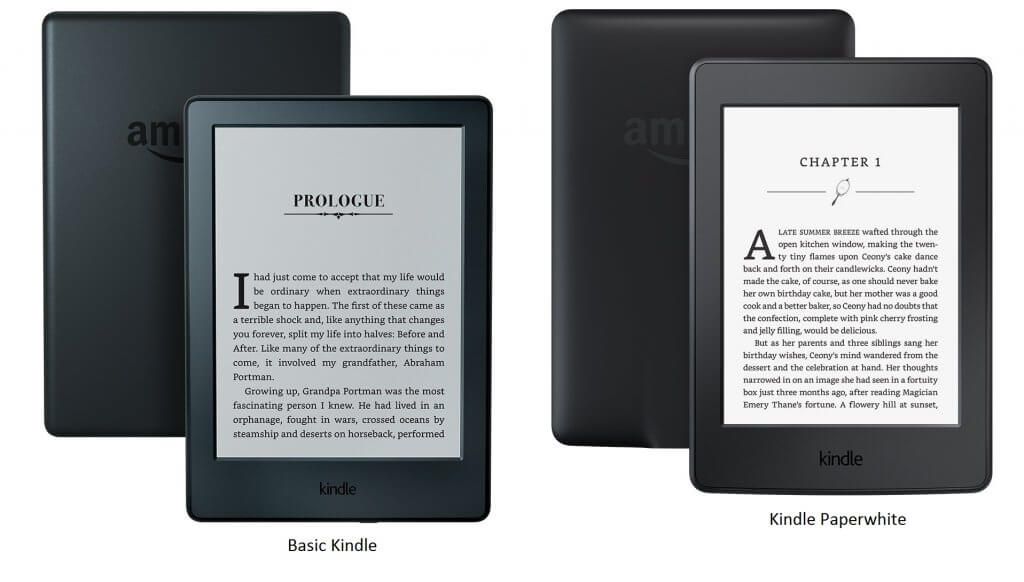 Should I get a Kindle or Kindle Paperwhite?  That is the question many of our readers have asked us.  In this article, we will do a detailed comparison between the "Basic Kindle" and the Kindle Paperwhite and provide our recommendation as to which is the better buy for you based on your needs.  Is it worth to upgrade?  How does the Kindle compare to the latest 'Kindle Paperwhite? What are the pros and cons when we compare basic Kindle Vs Kindle Paperwhite?
Kindle Basic Overview
There is no doubt that the Amazon Kindle is indeed an excellent dedicated e-reader that can change your reading experience.  The Kindle is by far the world's most popular e-reader and Amazon invests heavily to continuously update the product with new features.  Can you believe the first Kindle was released 9 years ago in 2007 and was priced at $399? Today, the basic Kindle sells for less than 1/3 of that and is thinner, lighter, and faster.  In fact now, Amazon has a line of Kindle readers designed to satisfy readers of all budgets including the Paperwhite, Voyage, and Oasis.  We have reviewed the other Kindle models here (Voyage) and here (Oasis).
Kindle Vs Kindle Paperwhite – Technical comparisons
Amazon states that the Kindle Paperwhite is its best selling e-reader out of the entire line.  It is easy to see why – it offers a number of features compared to the basic Kindle and it sells for under $200 making it quite affordable.  But the basic Kindle is a bargain at less than half the price.   So are the features worth the price?
The decision ultimately comes down to what you need.  The table below describes the technical specs of each model
KINDLE PAPERWHITE
KINDLE Display Technology
Paperwhite Built-in light
E Ink Pearl (No Built in Light) Resolution/Pixel density
300 Pixels per inch
167 Pixels per inch Connectivity
3G + Wi-Fi and Wi-Fi only
Wi-Fi only Dimension
6.7″ x 4.6″ x 0.36″
6.3″ x 4.5″ x 0.36″ Weight
7.6 oz (3G+Wi-Fi) and 7.2 oz (Wi-Fi only)
5.7 oz Battery life
8 weeks wireless off
4 weeks wireless off Interface
Touchscreen
 Touchscreen
Screen Size
6 inch glare free
6 inch glare free
So as you can see, the biggest difference between the Paperwhite and the Basic Kindle is that resolution and the built in 4-Led light as well as Free 3G connectivity that will let you use your Kindle in over 100 countries for free.  Of course, the price is also a factor and you can find out today's pricing on Amazon below:
✔ CHECK TODAY'S DEAL FOR KINDLE (The All New Version)
✔ CHECK TODAY'S DEAL FOR KINDLE PAPERWHITE
Which one is the better device for reading books – Paperwhite Vs Kindle?
We feel that the Kindle Paperwhite provides a significant upgrade for those who read often.  This is especially important in conditions such as bright sunlight (like when you're reading on the beach!) or in the plane (like when that guy opens his sunshade and a flood of light comes in), and also when it is dark such as when you are in bed (and your partner wants to sleep while you read).  The Kindle Paperwhite reads just like paper, but has the added benefit of not hurting your eyes when it is dark.  The basic Kindle does not have a back light so in our tests, we found it difficult to read at night.  As Amazon states, the "Kindle Paperwhite guides light toward the surface of the display with its built-in front light—unlike back-lit tablets that shine in your eyes—so you can read comfortably for hours without eyestrain."
Our recommendation is that if you want the flexibility of being able to read in different conditions and at all times of the day, go for the Paperwhite .  If you are a casual reader that plans to use it during the day or from time to time, we would suggest saving the money and buying the Basic Kindle.  Regardless of which one you buy, we highly recommend you buy it directly from Amazon so that you get the full warranty and service that Amazon is known for.
What is good about the Basic Kindle?  What are its features?

The Basic Kindle is fantastic because it is small, light and extremely portable.  Our tests also show that it is quite durable and can easily be packaged in a suitcase, backpack without too much wear and tear.  Furthermore, due to the size, it can even fit into your pocket or purse without it feeling very heavy since it weighs less than 6 ounce.  For reading, it has the same 6" display as Kindle Paperwhite.  It can be held with one hand and there is no glare.
Amazon has updated the basic Kindle often and in 2016, announced that the new Kindle would have a touchscreen instead of the old 5-way physical controller.  While some users have complained that they preferred the physical buttons, the touchscreen is certainly the trend and we are unlikely to see Amazon go back to a physical controller anytime soon.  The advantage of a touchscreen, however, is the improved typing ability so that you can take notes and make comments easily.  The previous controller made it difficult to type as you would have to literally click through the on screen keyboard.
We believe the basic Kindle is an overall incredible value. It is the cheapest version of Kindle line and if you want to save some money, the product would work just fine at night with a reading light (though the lighting will be uneven across the Kindle).  Moreover, having an external reading light wouldn't strain the Kindle's battery life so you can theoretically use it longer (although since the battery lasts for weeks, this is a mute point).
Kindle is an excellent deal with all the features of a first-rate e-reader. People who are not so passionate about touch screen or the Paperwhite built-in light would be quite happy with Kindle.
What is good about the Paperwhite compared to the Basic Kindle?
The best thing about the Kindle Paperwhite
is its display technology.  It has an amazing resolution of 300 pixels per inch making text appears crisp and laser quality.  The patented built-in light is in a league of its own.  It's patented display consists of three layers to deliver a comfortable and amazing reading experience.
The lighting is beautifully done to get perfectly balanced whiteness. It has 4 low-power LED lights that project over the cover, so that you can read at dark with no eye strain or sun glare.  The light is not uneven like a reading light that you can attach to a Kindle (see example) or one that is above you.  Please note you can customize the light with 24 different levels but you can't turn it off.
The light is not supposed to drain the battery life as it uses low-power LEDs.  In fact, our tests show that the Paperwhite lasts for several weeks which we feel is more than enough for the majority of users.
Lastly, with the Paperwhite, you have the option of getting a 3G+Wi-Fi or a Wi-Fi only version.  The basic Kindle comes with Wi-Fi connectivity only.  For many folks it's a lot more convenient to use 3G services to download books as Wi-Fi hotspots are not always available and the 3g services are available in over 100 countries.  Amazon provides the 3G service for free in all of these areas, which means you can download and browse books on the go in most major countries around the world.  This is a huge advantage for the traveling reader.
What is bad about Paperwhite compared to Kindle
The price is the only thing that puts the Paperwhite at a disadvantage.  Compared to the Basic Kindle, we feel that the Paperwhite is a bit overpriced for adding what is essentially a better reading light and slightly better resolution display.  In 2016, Amazon made both devices have touchscreens so this eliminates a significant difference between the two.  Therefore, we recommend you look at your overall lifestyle and use to determine whether the Paperwhite is worth the price you pay.  Both devices have excellent build quality and we feel that it is likely that you will be satisfied regardless of which Kindle you buy.
Overall Verdict
Choose Kindle – if you want a basic e-reader without too many features and you want to spend less.  It's a great choice just for reading books casually.
Choose Kindle Paperwhite – if you are a serious reader that reads several hours per week or in varying situations.  You will love the enhanced self illumination as well as crisper text for the price.  If you are planning on keeping it for the long term, the price difference is not all that much compared to the use.
Amazon regularly offers deals and promotions with the Kindle.  Find out current prices, promotions, and look into more details of each model on the Amazon website by clicking the links below:
✔ KINDLE PAPERWHITE WI-FI ONLY ON AMAZON
✔ KINDLE PAPERWHITE WI-FI + 3G ON AMAZON
✔ BASIC KINDLE WITH SPECIAL OFFERS ON AMAZON
Must Have Accessories for Kindle
Regardless of which Kindle model you choose, here are the top 5 accessories for Kindle under $25 that every owner should have:
More In Depth Reviews
If you would like more information on these two devices checkout our individual reviews:
Amazon Echo vs Amazon Dot New! – Compare the Amazon Echo vs. Amazon Dot
Updated: December 20, 2016