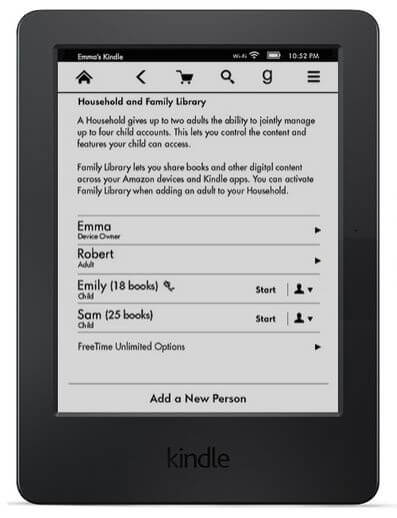 After grueling years of being unable to share books even with your spouse or siblings regardless of the number of Kindles and Amazon devices people own, things have changed… Finally, sharing books is now possible through the Family Library.
How about if you want to enjoy the benefits of not buying the same books within the same family or sharing books easily but you don't know where to start?
If you're struggling to set up sharing up, today, we'll keep things simple with some basic steps on how to set up the Kindle Family Library.
Before you begin setting up your library, ensure that your devices are compatible. To check your eligibility, click here. You can set up the family library in two ways…
Setting Up the Family Library Online Through a Browser
Setting Up the Family Library Through Your Amazon Device
Setting Up the Family Library Online Through a Browser
To set up the family library with your computer or tablet and a Wi-Fi connection:
Open a browser and log in to your Amazon account here
Go to the Manage Your Content and Devices page
From the Settings tab, go to Households and Family Library and select Invite Adult. The Invite an Adult to Create an Amazon House Hold window displays
Specify details of your spouse's account, which must be different from yours, and click Verify Account. If your spouse does not have an account, select Create a new Account
Once the verification is successful, select the authorization for payment sharing and click Create Household
Select the apps and books that you would like to share and click Finish. Your Family Library is set and active now
Choose Create Your Family Library when you are done
Setting Up the Family Library Through Your Amazon Device
To set up the family library through your Amazon devices, do the following:
From the Menu button, select Settings, Registration and Household, and then Household and Family Library
Select Add a New Person and then Add Adult
Enter the account ID and password of your spouse or create a new one if they don't have one
Enable sharing from both the accounts for all of your books or just a few
Wrap-Up
So…
It really is as simple as that.
Here at Pick My Reader, we drill deep when it's necessary and give you short, sharp information where that works best.
Hopefully, this quick and easy tips will have you up and running in no time!
Come back soon.